From Namdaemun Gate to Changuimun Gate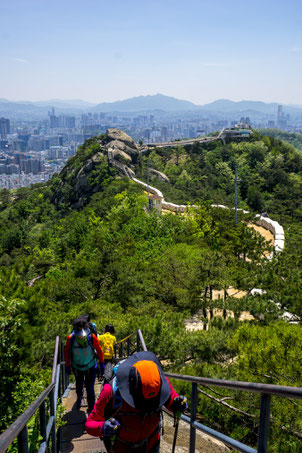 Seoul has a city wall that can be still walked. It is going around the inner city and the overall length is 18 km. There is an official hiking trail. More information can be found here. 
The city wall is going over the mountains that surround Seoul and therefore you have a great view over the city and sky line of Seoul. Even though 18 km does not sound a lot for a hiking trail with the mountains and the up and down it is quite a hike.
I will do the whole wall in three legs. Today you see the photos of the first leg that I did yesterday from Namdaemun Gate in the south to Changuimun Gate in the north west. On the way I was climbing Inwangsan Mountain (339 m). Please remember, the rest of Seoul is almost at sea level.
From the mountain you have a great view on the city and especially on the blue house, the office of the Korean president. If you try to make photos on the mountains that includes the presidential office some tourist guides coming very fast to you an stop you. It was quite surprisingly.
Please enjoy the photos.