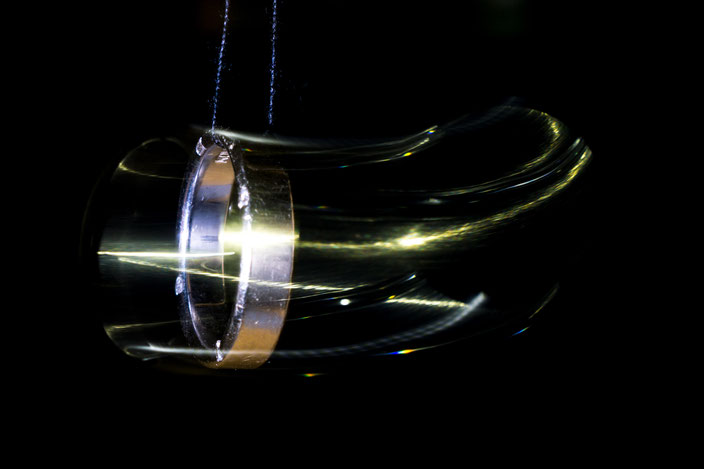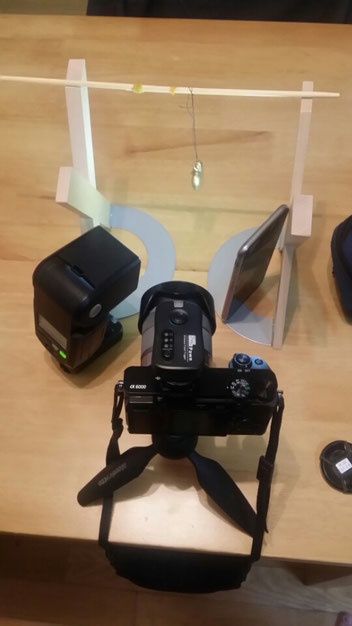 I tried the frozen movements with the trails of light again. The setup is easy but a lot of fun.
The flash is from front left , the permanent ligth from right. It is important that there is enough space behind the setup that the ligth can "fade" out.
The camera is set that the ambient light is just black (ISO 100 and the aperture accordingly – in my case f13).
The shutter time is around between 1/8th or 1/4th of the second because you want to have a trail of light. If the object is lighted by the permanent light (in my case the mobile phone) the object should be a bit underexposed. The background should be still be black. If you add the flash the object should be correctly exposed, the background still black. I needed to experiment a bit. I started with a 1/128th of the power and ended up with 1/64th. The connection between camera and flash was via remote flash trigger. The flash setting in the camera was set to rear curtain.
Please enjoy!
Mehr eingefrorene Sachen mit Lichtspuren
Ich habe mich an weiteren eingefrorenen Bewegungen mit Lichtspuren versucht. Der Aufbau ist einfach aber bringt recht viel Spaß.
Der Hauptblitz ist von vorne links, das permanente List von rechts vorne. Es ist wichtig, dass hinter dem Aufbau genug Platz ist, dass das List nach hinten ins Schwarze abfallen kann.
Die Einstellungen in der Kamera sind so, dass das Umgebungslicht nicht dargestellt wird (schwarzes Bild). In meinen Fall ISO und die Blende bei f13.
Der Verschluss ist bei 1/8 oder 1/4 da man noch die Lichtspur haben will. Wenn das Objekt nur mit dem Dauerlicht bescheint wird, sollte es ein bisschen unterbelichtet sein. Der Hintergrund nur bei Dauerlicht sollte weiterhin schwarz sein.
Wenn der Blitz dazu genommen wird, sollte das Objekt richtig belichtet werden. Der Hintergrund sollte weiterhin schwarz sein. Ich musste ein bisschen experimentieren. Ich habe mit 1/128 angefangen und bin dann bei 1/64 Blitzleistung gelandet. Die Verbindung zwischen Kamera und Blitz war mit einen Funkauslöser. Der Blitz war auf den hinteren Vorhang eingestellt.
Viel Spaß!